7692 MX-71 Recon Dropship
Edit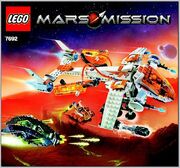 The Recon Dropship is a craft used for transporting miners to and from the surface of Mars. This set contains a mining vehicles that hooks up to the buttom of the dropship. Also in this set, An alien Craft sneeks along the surface, ready to attack.
CrystAlien Conflict
Edit
This ship has no defences, but carries up to six infantries and/or Engeneers. It is an air unit, not a ground unit
Set Information
Edit
Released: 2007
Item Number: 7629
Peices: 435
External Links
Edit
Read More
Edit
Ad blocker interference detected!
Wikia is a free-to-use site that makes money from advertising. We have a modified experience for viewers using ad blockers

Wikia is not accessible if you've made further modifications. Remove the custom ad blocker rule(s) and the page will load as expected.